The Four Horsemen (after Dürer)
Acrylic on canvas
60 cm. x 90 cm.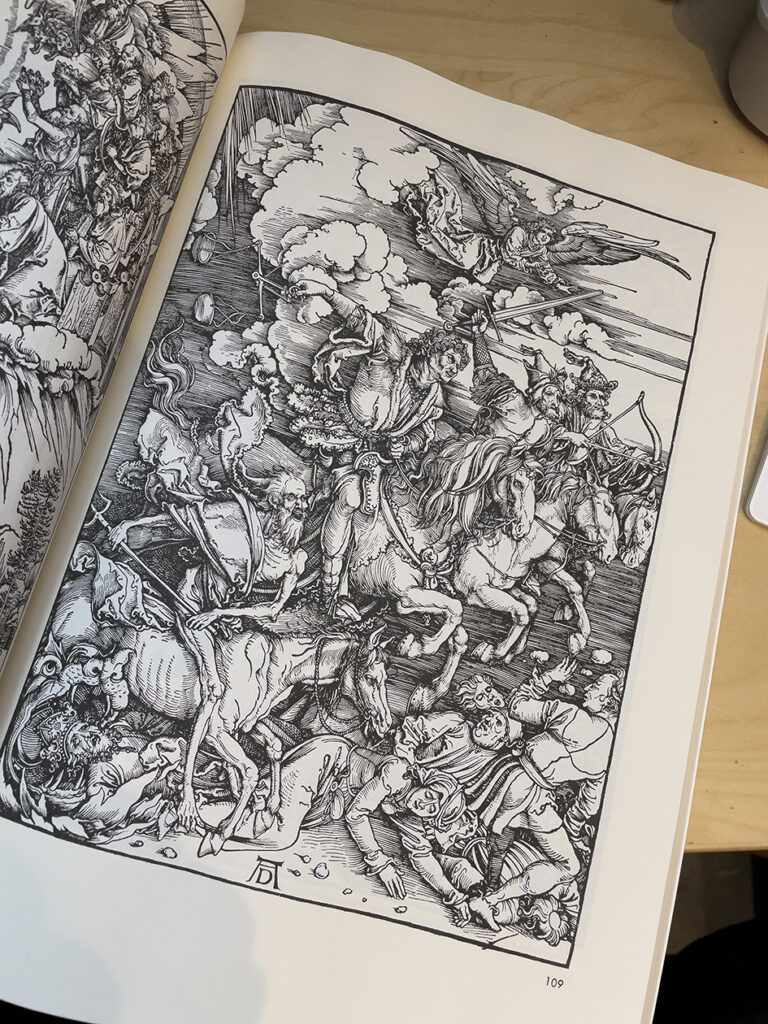 Five years ago I retired from work and decided I was going to go back to painting. I made an oil painting based on a photo I took on a recent holiday. I still have that painting, it's the first on this website.
I've not been very prolific, I started very slowly, doing large (-ish) oil paintings and only did a handful in my first year. At the beginning of the pandemic I diversified into acrylics and have painted less in oils over the last two years.
In five years I have completed (excluding watercolours and digital paintings) only 99 pictures. This one is my hundredth, I think it represents a big change in direction as I continue to attempt to be an Artist.
Following inspiration from Walter Sickert (1860-1942) [see Don Quixote], it is based on a woodcut by Albrecht Dürer (1471-1528). I felt that, in a time of pandemic, war, famine, poverty and refugees, it was an appropriate subject.
The bottom bit started out as Dürer, took on a bit of Bosch and now has elements of Bacon in it, as well as a whole load of me. As far as I can tell, it's exactly what Apocalypse looks like. If it turns out I'm wrong, I'll change it.
Revelation 6

The First Seal: The White Horse

Then I watched as the Lamb opened one of the seven seals, and I heard one of the four living creatures say in a thunderous voice, "Come!"So I looked and saw a white horse, and its rider held a bow. And he was given a crown, and he rode out to overcome and conquer.

The Second Seal: War

And when the Lamb opened the second seal, I heard the second living creature say, "Come!"Then another horse went forth. It was bright red, and its rider was granted permission to take away peace from the earth and to make men slay one another. And he was given a great sword.

The Third Seal: Famine

And when the Lamb opened the third seal, I heard the third living creature say, "Come!"Then I looked and saw a black horse, and its rider held in his hand a pair of scales. And I heard what sounded like a voice from among the four living creatures, saying, "A quart of wheat for a denarius,a and three quarts of barley for a denarius, and do not harm the oil and wine."

The Fourth Seal: Death

And when the Lamb opened the fourth seal, I heard the voice of the fourth living creature say, "Come!"Then I looked and saw a pale green horse. Its rider's name was Death, and Hades followed close behind. And they were given authority over a fourth of the earth, to kill by sword, by famine, by plague, and by the beasts of the earth.