"Billy Kee"
Oil on canvas
42cm x 59.4cm
This is a painting I've made from a commercial photograph. It shows Billy Kee, a footballer at Accrington Stanley, winner of last season's League Two Golden Boot award.
Just to see if I could, I made a painting from a photograph of a famous person.
Fan art, I think it's called. You see 'artists' all over the internet with their paintings of Hendrix, Lennon. Amy Winehouse; done to a lesser or greater degree of accuracy. I don't know what it is, but I know it isn't art. But…just to see if I could, I decided to have a go. I also had an eye on the possibility that if I succeeded, someone might actually want the finished picture.
Anyway, it worked, I managed to produce a (to me) pleasing finished painting, with the minimum of fuss and effort, of Billy Kee, the demon goal scorer of Accrington Stanley. To gauge reaction, I posted a photo of it on an Accrington Stanley fan page on Facebook and said that it was for sale (all profits to the club or to Billy's choice of charity). The response was heartening with price enquiries (I thought maybe £100 – £150, but I didn't want to limit receipts, so I remained non-commital). Almost immediately, the Supporters' Club contacted me and offered to use the picture to raise as much as possible.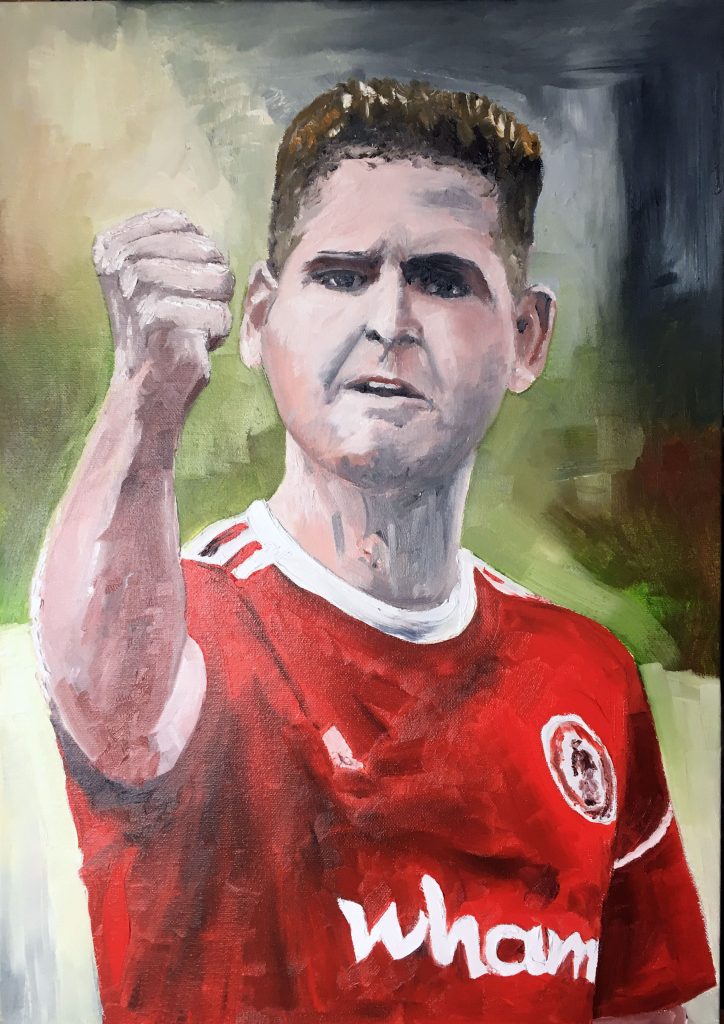 Update 1
I went to a club season ticket event and took the picture, as agreed, to pass over to the Supporters' Club. There had been talk of some of the players attending and I began to hatch a plan – I wasn't going to stay long, but if Billy Kee showed up, I was going to nab him and ask him to have his picture taken with me and the painting. I was just about to leave when I saw him standing about three feet away from me. Like a teenage girl at a Justin Bieber concert, I grabbed the painting and asked him for a photo. True professional that he is, he was happy to oblige.
Update 2
Billy autographed the painting, and it was auctioned by closed bids.
Update 3
The painting was bought for £280 – which went to club funds. Here is a picture of me, handing over the picture to the successful bidder, Gill, accompanied by Peter, the Supporters' Club chairman.
…and we were even in the next match programme!
Update 4
Here's the picture hanging proudly on the wall in Gill's themed pub in Benalmádena, Spain: 'Stanley's'.